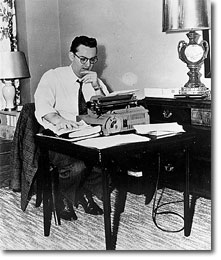 I came across this rather bleak article (PDF) published in the Quill & Quire by Denise Bukowski of the Bukowski Agency in Toronto. It's called "Why Your Novel Isn't Selling", and just gets worse from there.


We used to say at the Bukowski Agency that we look for writers who have the potential to make a living from their fiction. Not any more. Now we tell our authors to make sure that they have income from other sources: non-fiction books, scriptwriting, journalism, teaching.
There has been a sea change in the fiction marketplace, and understanding it requires an international perspective. To give you two examples:



Fact : Foreign rights to American novelist Edward P. Jones's bestseller The Known World, which last year won the Pulitzer Prize and the National Book Critics Circle Award, were not sold until after it had won those awards.



Fact: U.K. star Andrea Levy's Small Island, which not only won the Orange Prize but also was recently declared "The Best of the Best" of the first 10 years of the prize, was turned down all over New York; Picador finally picked it up for a pittance as a paperback original, after it won the prize.
How to Disappear Completely
There are many mid-list, mid-career American novelists whose latest manuscripts are wandering around New York homeless.
Besides the U.S. and the U.K., Germany used to be the third major market for fiction, but now German publishers buy virtually no new authors. The German economy has been in a tailspin, and publishers have folded or amalgamated. One German editor told me he has been buying only the new books by his already-successful foreign authors for years now; he dares not risk a new author. At Frankfurt last year [2004], German literary editors failed to show up for their meetings with agents because they had been told to buy nothing.
Novelists I tell these things to do not want to hear them, so they protest, "But isn't it cyclical?" Economies are cyclical, so those factors in the U.S. and Germany that are dragging their respective economies down, and the book market along with it, will surely, some day, improve. But what do we do about that one ubiquitous chain that dominates the British market and is beginning to dictate publishers' lists? That's not cyclical. What do we do about a popular culture where the market for SUVs (until recently, anyway) and computers and $100 running shoes and all kinds of fancy electronics and entertainment and communication gizmos seems to be unlimited, but the book market is stagnating? Pottery Barn is full of customers every day, and so is Holt Renfrew. That's not cyclical.



[…] So, it really ain't you, babe: you are still the wonderful writer you were last time around. Don't take it personally if your new novel is not published in 63 languages like Harry Potter. If it is being published in Canada by a mainstream house, that is validation enough. But it definitely won't pay the rent.